I was asked to do an eyeliner tutorial by a couple of people, so I've put something together on a few methods that might help. Anyone who was asking me to explain how I do my go-to liquid liner is shit out of luck though, because I just do that freehand with a flick at the end and don't think there is any way to break it down into steps. But I
do
use some combination of the methods outlined here as part of that, or each on their own, depending on the look I'm going for. So hopefully this will still be helpful.
Basic Liner
- needs eye pencil (or eyeliner brush and cream or gel liner, or if you're me, a liquid liner and a steady hand)
As previously mentioned in my
lip tutorial
, the key to not fucking up your eyeliner is short strokes. If you need to, pull your lid from the corner a little bit to make it smoother (but not tight, you want to maintain the shape of your eye), and with a sharp pencil do short little strokes along the lashline.
At the end, you get a sharp line that you can leave as-is or smudge or do whatever with. I did my example with pencil, but if you have a fine liner brush and a cream liner, you would still do pretty much the same thing.
Basic eyeliner
Push Liner
- needs flat eyeliner brush, powder eyeshadow
For a more natural, less makeupy kind of look, there's push (or stamped) liner. The idea here is not to actually draw a clear line, but to stamp some extra oomph into the base of your lashes. The closer you are to the lashline, the darker (and thicker!) your lashes will look, and your eye will be a bit more defined without looking obviously made up. In fact, once you add mascara, it shouldn't even look like you've lined your eye at all - but it will give your lashline a little extra depth that you can't get with either liner or mascara alone.
For push liner you'll need a flat eyeliner brush. Ideally, you'll want one a bit wider than what I've got here so the process will be quicker and easier (time is money, people), but that shit is $32 and I don't do this often enough to make the time worth that money.
Actually, maybe I SHOULD invest in a new brush.
Step one: Load the tip of your brush with powder and pull your lid a little bit taut.
Step two: Push the tip of the brush into the very base of your lashes. No need to drag it along or try to draw a a line, just push it in and wiggle it around.
When it's done it will be a soft, more natural-looking line than you can get with a pencil.
Push liner
Waterline
- needs eye pencil (angled brush and powder eyeshadow optional)
This is easy. This is the normal thing you do with a pencil, just drag the side of the pencil tip along your waterline and the colour transfers. Like magic. Some people even just close their eye with the pencil in there and wiggle it around and do both top and bottom at once. I don't do it that way because I think it's gross. But I won't judge.
Step one: Sharpen your pencil. Don't make it too sharp because the idea here is not to poke yourself in the eye. The sharpening is just to shave off any part of the pencil that may have gotten a bit dry (read: won't transfer well) and any bacteria that have been accumulating since the last time you used it.
Step two: Pull your lower lid down a tiny bit to avoid eye-pokage and run the side of the pencil along the rim.
For some people this might take a bit of getting used to, but it is worth doing. Doing your waterline gives you so much more space to play with colour, or allows you to blend your lower lid into an overall look. You don't have to do the entire thing, either, if your look doesn't call for it - running black liner all the way along the waterline might make your eye look a little smaller, so you can just do the outer half if you want to keep your eye looking open and bright.
At this point, you can really load the pencil onto the lower waterline and then blink a few times to transfer some of that colour to the top if you want to, but there is a better way to do the upper waterline later in this post.
Basic liner with lower waterline
There is a way to make lower waterline colour last a little longer, which really isn't recommended for every day, but sometimes when I'm doing a heavy, rock n' roll, black smoky eye, it is just
not okay
for my waterlines to suddenly stand out all pink in the middle of the black hole because the pencil wore off. This way is by adding powder on top of the pencil. Yeah. Powder in your eye. Sorry.
Step one: Load up one of the
sides
of the brush and tap off the excess. Please tap. Not tapping means the excess will poof into your eye during step two, and that will cause you to tear up and cry off all the makeup you just applied. Total waste. And oh, I guess it also matters that it keeps the powder out of your eye.
Step two: Pull your lower eyelid out a bit (so you're not actually putting the powder right into your eye) and pat the loaded side of the brush along the waterline. Patting is important so you don't just wipe everything right off. As an added bonus, patting is also less irritating to your eye, which is a really good thing when you're already being kind of a bitch to it by doing this at all.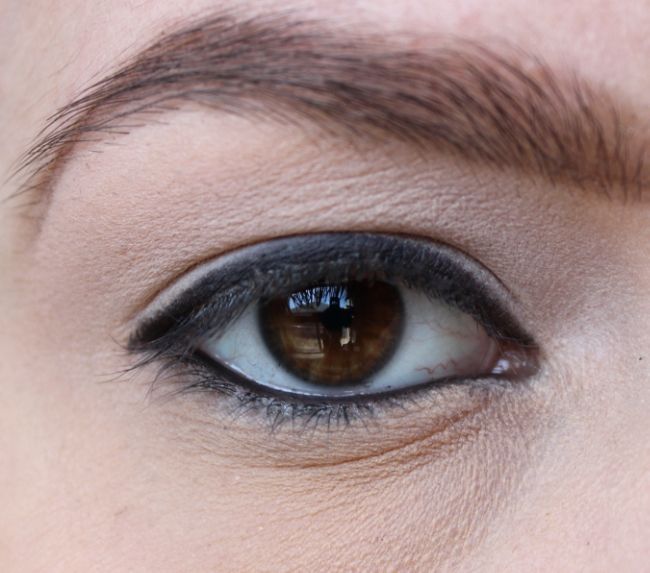 Basic liner with powder waterline
Tightliner
- needs flat eyeliner brush, powder eyeshadow (or a really sharp eye pencil)
Tightlining is basically upside-down push liner. You just stamp the powder into the underside base of your lashes. It is actually kind of genius. Once you've got your method down, it is a super fast and easy way to pump up your lashes and define your eyes without actually having to do your eyeliner. This is what you want to do on "no makeup" days. It looks gorgeous and natural and it might change your life.
It is kind of a pain to get used to, though, be warned.
Step one: Pull your upper eyelid up by the lashes. Don't yank on your lashes, just holding them against your lid should be enough. All you really need here is to be able to see the base of them easily.
There is no way to make this photo not gross. I tried.
Step two: Load up the tip of a flat brush with powder and tap off the excess. Push the tip of the brush into the base of your lashes, as close as possible. This helps the powder get right in there between lashes and keeps it farther away from your eye, which will in turn help it last because it won't get as wet (and it also won't end up in your eye). Alternatively, you can use a sharp pencil and get it in as close to the lashes as possible.
Tightliner
It might not look like much, but look how it compares with nothing:
No liner / tightliner only
The difference is subtle, but it's there, and it's important.
When you do push liner and tightlining together, you create a lot of depth that will make your lashes look fuller whether you add mascara or not.
Push liner and tightline
Bonus Round:
Cat Eye
- needs angled brush, cream or gel liner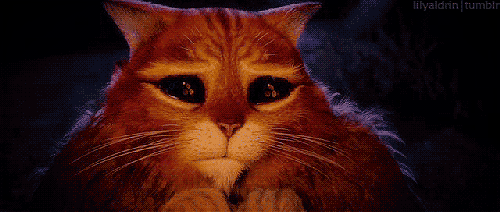 Not exactly.
I was going to do this as a separate tutorial because I don't have enough ideas to keep posts coming for very long and wanted to stretch out my material, but then I realized that 1) like three people even read this blog and 2) how lame would it be to have to go to two different posts to find everything you need? So instead I'm putting this here and we'll call this entire post an eyeliner encyclopaedia. You're welcome.
Say it like this. You know you should.
Step one: Load up your angled brush with a cream or gel liner. I have neither of those things because I usually do this freehand with a liquid liner, so I'll demonstrate with a slightly different method and a cream eyeshadow.
One of the major benefits of this method compared to my freehand is that because it uses the width of the brush and the lines of your own eye to measure where you draw, you're going to get an exact match on both eyes right away and never have to fret about ruining your liner trying to make them match.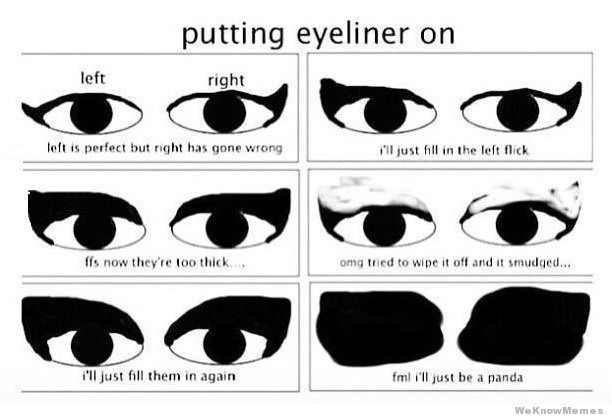 Don't be like me.
Step two: Line up the brush to continue the natural line created by your lower lashes. Imagine if the lower lashline just kept on going along the same trajectory - put your brush on that line. Then stamp the brush down in that spot.
Step three: Now line up the brush between the top corner of the line you just stamped and your top lashline, at whatever angle works for the thickness you want. We're creating three sides of a triangle here - two sides with liner and one with your lashes. Then stamp again.
Step four: Fill in the triangle with the liner, and then continue the line along the lashline.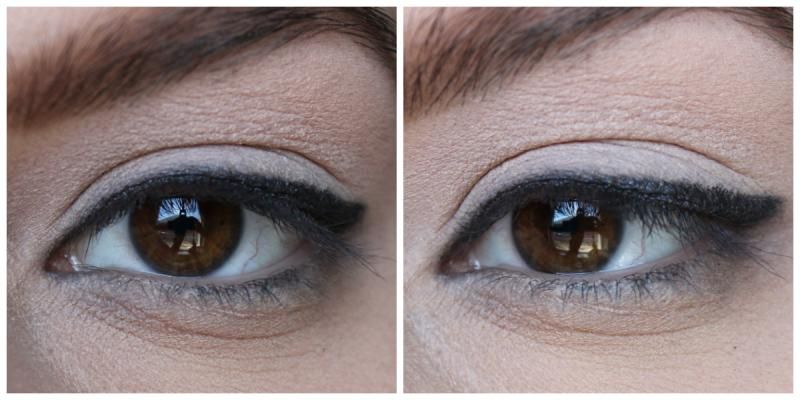 Cat eye liner
For extra cattiness, repeat the process on the inner corner as well!
Meow
And phew. The longest post of all time is now done and will hopefully be of some use to someone.
For anyone who is curious, I'll include a list of the products I used, but this is one of those times when it doesn't really matter because there are 87 billion liner and eyeshadow products on the market that will all do the same things.
Powder shadow: Urban Decay eyeshadow "Crave" from the Naked Basics palette
Pencil liner: Urban Decay 24/7 Glide-On Eye Pencil in "Crave"
Cream "liner": MAC Pro Longwear Paint Pot in "Blackground"