I didn't used to fill in my brows. I tried it once in high school and I felt like I looked ridiculous. When I learned a bit more about makeup, I managed to find a routine for doing them in a not-so-ridiculous way. Unfortunately, this involved several minutes wrangling with a combination of powders and pencils and spoolies. As a result, I loathed doing it and stopped again.
No.
Until I found Tarte Amazonian Clay Brow Mousse. This stuff is pure magic. It is the tiny little pot at the end of the rainbow, if that rainbow was brown and arched two-thirds of the way down.
The brow mousse is waterproof, which means it lasts all day without melting or smudging if I happen to rub my hand against my forehead or something.
It also comes with a brush that has a spoolie on the end, so I can apply with one end and then blend and comb with the other side.
The brush is pretty stiff and it's probably not the greatest quality available, but it's perfectly adequate and the spoolie on the end makes it especially useful.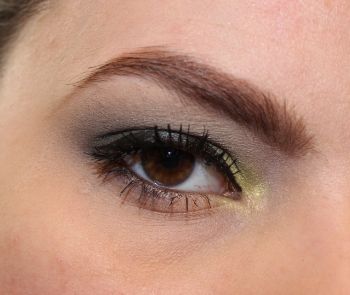 Perfection.
The tiny pot makes the $36 price tag seem a bit scary, but you need so little product each time that this little pot will last probably forever. I've had mine for months already and it still looks basically new. I wish I needed to buy more of these, that's how much I love it. My eyebrows are now the only thing I will absolutely not leave the house without doing, just because of how easy Tarte has made it to make them gorgeous.