Sometimes I get it in my head that I need a certain colour. And not just a vague colour family, a
specific hue
. This thought then consumes me. I spend hours browsing websites and keeping a list of possible candidates. I go to stores and swatch all the items on my list, and of course because my mind is so sure of what it wants, they are never exactly right, so I spend another hour frantically swatching anything and everything in the store that has even a remote chance of being The One. I am frequently disappointed. I also spend a lot of money needlessly, because these searches inevitably introduce me to shades that aren't what I'm looking for but are still gorgeous, and of course I have to buy them.
One day, I decided I needed a dark red. And not just any dark red. An almost-black, pure, vampy red. I found a few shades online that looked promising and went to swatch them. They were all either too light or too purple. All I wanted was red, add black.
AND THEN. While browsing the Obsessive Compulsive Cosmetics lip tars for the shade I wanted, I saw that they had a collection of primary colours, including black and white. I guess I had always assumed that these were for those crazy days when you need blue lips, but on this day I realized they were also intended to be used for mixing.
Mixing
. I already owned a red lip tar. So I bought the black.
OCC "Stalker" and "Tarred"




A toothpick because I don't have proper tools.


Red. Add black.
Omfg I'm a genius.
It took an extra dash of black to make it come out right, so I have a swatch of the original "Stalker", and then with one drop of "Tarred" and the final colour with two drops of "Tarred".
On the right. Obviously.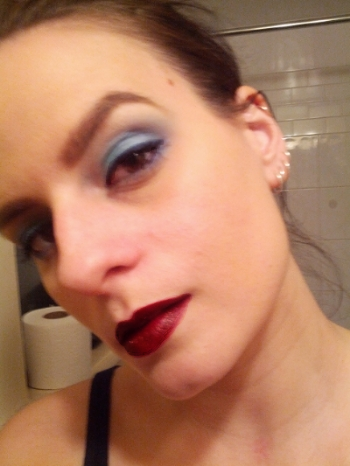 It's not a real selfie if it wasn't taken in a bathroom.
OCC saves the day. And saves me a bunch of money, because now when I'm struck with the need for a particular shade, I can try and mix it up for myself. And honestly, this was super fun. I'll be mixing and matching now
just because I can
.