I tried to ignore the MAC
Playland
collection, I really did. I told myself I didn't really
need
an orange eyeliner. (See how that turned out in my next post). I also doubly-told myself I definitely didn't need another green eyeshadow.
Sigh.
So I'm writing this post as a rationalization for why it was totally not crazy for me to buy something I already have too much of. I intended to do this by convincing anyone reading how absolutely pretty this colour is. Unfortunately, this will be difficult to do, because this bitch just will not photograph properly. Why does my makeup hate me?
This is MAC's pigment "Golden Olive". It's a green/gold shift (hence its poor reaction to still photography) that I had only had on for two whole hours before someone had already asked me where to get some for themselves. That's how insanely pretty this colour is.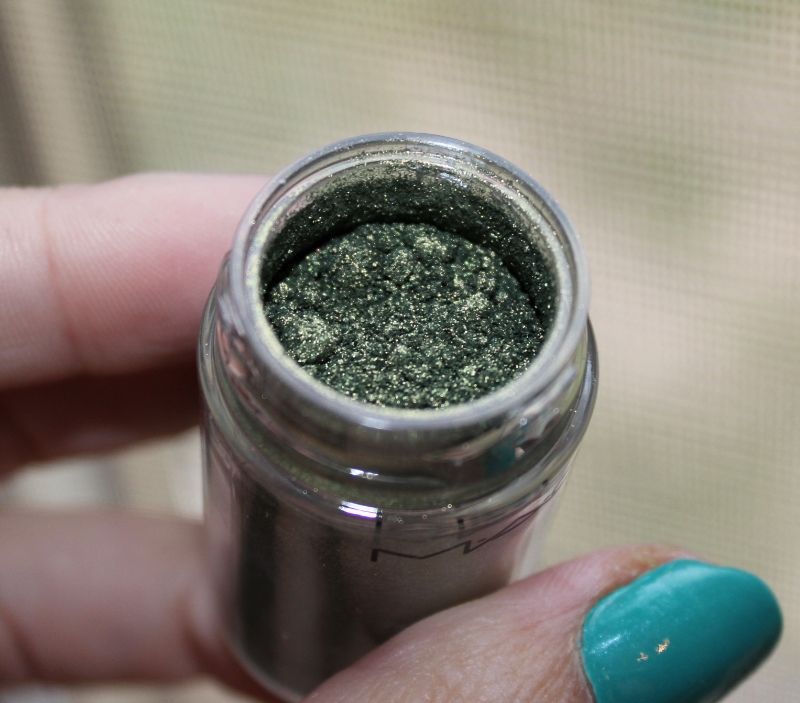 The pigment applies beautifully smooth, and builds really well. It starts as a lighter wash of gold, but the green really starts to intensify as you build up the colour. For people who aren't me, this means they can wear it to work or somewhere respectable, but still get the benefits of the unexpected gorgeousness, AND they can build it up for date night afterward. Bam. I am all about intensity though, I don't know if I'll personally ever wear it subtly. (In another life, I'd be a drag queen).
Built up / One swipe (both over NARS eyeshadow base)
For anyone who was hoping I was downplaying the whole "this shit won't photograph" thing to create suspense, prepare to be disappointed.
I know this is good, but IRL it's even better
Told you. You'll just have to trust me on this one.