This is technically a tutorial because I'm providing instructions and advice. But despite that, it is probably not going to be all that helpful for most people most of the time, because this is NOT your everyday smoky eye. What we're doing today is the kind of shit you do when you want to wear leather jackets and studded boots. This is your rock n' roll, sexpot, don't-fuck-with-me smoky eye tutorial. It is certainly possible to use these instructions to create a more toned-down, subtle smoky eye, but let me ask you this: would you really want to?
Step one
: prep the eye. Primer is a must when it comes to serious looks. It will help the shadow go on with the best opacity, as well as help it maintain its pigment to reduce fading and creasing throughout the day. I promise, you do not want to skip this step.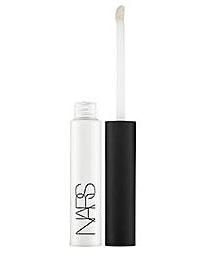 No photo on my face because this stuff is invisible.
Step two
: create a base. Since we're using black, we're going to go even further to increase the opacity of the colour. Sometimes with blacks, blending and fading can cause them to look more grey than black, which is a definite no-go for a look like this. I use a black cream shadow to lay down the foundation for the shadow. This one actually has a bit of shimmer to it, and a little bit of that comes through in the final look, which is neat.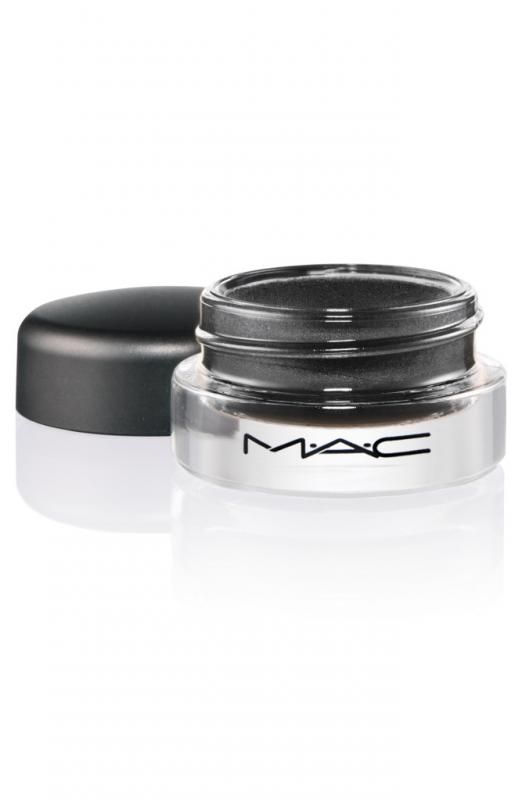 MAC "Blackground"
I'm always careful to cover just slightly less of the area than I want for the finished look, and to blend the edges of the base really well so they aren't obvious when I put the shadow on top. If you were to paint it on over the full area, then once you started blending the edges you'd end up with a lot more coloured area than you actually wanted. Granted, this is a dramatic look, but there are limits. It's safest to stop just short of where you want the shadow to end and then blend out to the desired stopping point.
Not this time.
Step three
: black. Just, black. Most of the magic in a smoky eye is the blending, so to begin with you're just going to want to trowel that shit on, and then sort everything out later. Apply the shadow on the whole lid all the way up and into the crease (I'm stopping just above the crease because I'm going to blend up and out from there, like I said before: stop short), and all the way along the bottom lashline.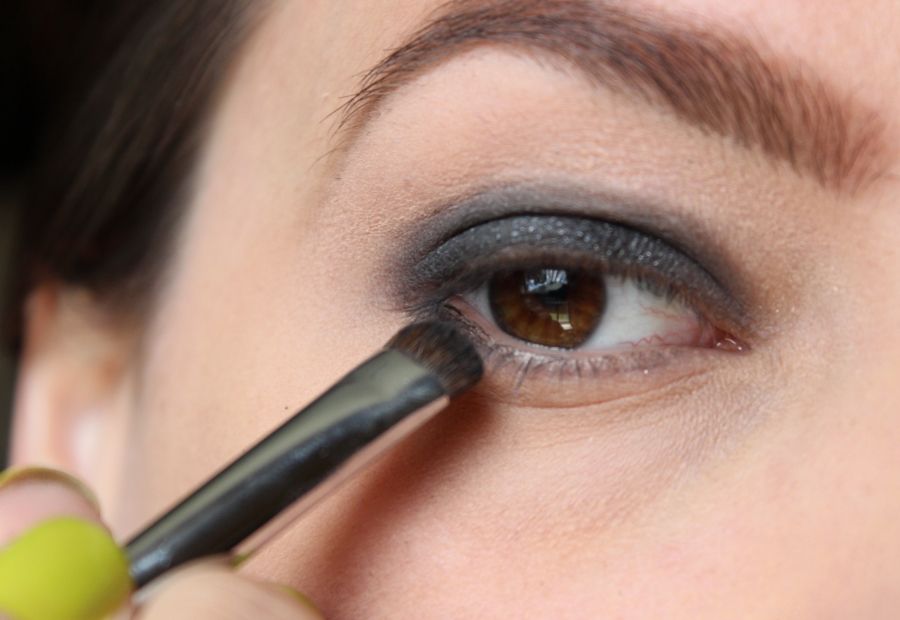 MAC "Carbon"
I used two shadows here. First was MAC eyeshadow in "Carbon", and because Carbon is kind of shitty pigmentation-wise (sorry, but even MAC knows that's true), I went back over it again with MAC pigment in "Black Black" for added depth.
MAC pigment "Black Black" (over "Carbon" and "Blackground")
Step four
: highlight. To avoid looking like a clown, I recommend a matte highlight. But the point of this look is drama, so I'm not going to argue if you want to go all the way and toss in some shimmer. I'm using a skin-toned beige colour to lighten the area and assist with blending the edges of the black.
MAC "Orb"
Step five
: blend that shit. Just blend the hell out of it until you're pretty sure it's blended enough, and then blend a little more. It can't be a smoky eye if there isn't any smoke. Does smoke come at you like a solid brick? No. It wafts and floats and dissipates into the air around it. Blend, motherfucker, or I will judge you.
Use a nice, fluffy blending brush and do little windshield wiper motions and/or tiny circles. Be careful to do this only at the edges of the black shadow, smudging it into the highlight colour and softening the edges. Avoid the lid, or else you'll really just be brushing colour
off
, which is quite the opposite of what you want. And don't forget to give just a tiny bit of attention to the lower lashline, just to soften that up and blend the outer corner into the top.
The action got sped up in these gifs, you don't actually need to blend at super speed.
Step six
: line. Obviously you won't really need to give a lot of attention to the lashlines, but the inner waterlines are both going to need some colour. Otherwise they're going to stand out, and not in a good way. A black pencil is fine for both the upper and lower waterlines, nothing fancy.
For added security, you can add a bit of powder on top of the pencil liner to help it last a little longer, as seen in
this post
.
Step seven
: mascara. Make sure you've got your blackest, most voluminous mascara at hand, because that's what's called for here. Do three coats, but stop before they get clumpy - you don't want to look like you've been sweating for eight hours before
you even get to the party.
To pull off such a heavy eye, you need to lighten up everywhere else. I use a few dabs of Benefit's High Beam (under the arch of each brow and along the cheekbones) to add a bit of glow to the rest of the face, and pair with a nude lip gloss.
And voila: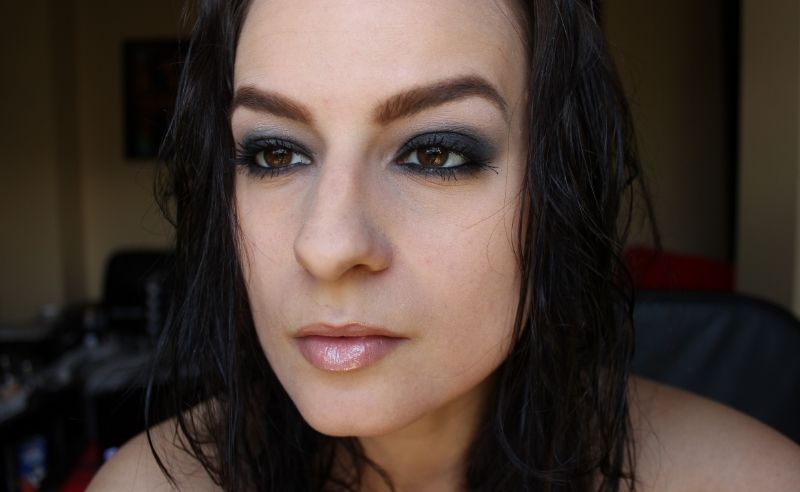 Squinty so you can see the lid
See, it's really not as bad as it sounds. I wore this look to work tonight and got a bunch of compliments, so it can't have been too extreme (which is almost disappointing, let's go even bigger next time). For a less heavy look you could switch out the black for a grey or brown, use a lighter shade at the inner corners, then smudge a dark liner all around the lashline. I might show you that one day because it's useful for attending grown-up things, like weddings.