So just when I thought I had nothing left to buy (hush, sweet innocent V of the past), summer came. And my face started melting.
Cue waterproof makeup spree:
-
Urban Decay "Cannonball" ultra waterproof mascara
-
Stila Stay All Day waterproof liquid liner
in "Intense Black"
-
Make Up For Ever Aqua Cream eyeshadow
in #13 (warm beige) and #24 (yellow)
-
Make Up For Ever Aqua Matic cream eyeshadow pencil
in D-12 (diamond golden grey) and I-30 (iridescent lime green)
-
Tarte Amazonian Clay waterproof brow mousse
in "Medium Brown" (I left mine open overnight and it dried out, okay? It was a sad day.)
-
Make Up For Ever "Mist and Fix" finishing spray
(not technically waterproof, but is supposed to be humidity resistant)
-
Anastasia Beverly Hills clear brow gel
(again, only water resistant, but better than nothing to keep your shit in place)
I also debated buying a water-resistant foundation or tinted moisturizer, but then I realized that the Tarte foundation I'm already using gets a lot of reviews saying it's pretty resistant, and all the actually "waterproof" foundations I could find were some seriously heavy-duty warpaint. Also I have spent enough on this crap and I have textbooks to buy. As such, I deemed all that to be unnecessary, since my skin isn't bad and I probably won't die if my makeup comes off. (Which it did. Spoiler alert: the foundation did not survive the day).
To test these products, I thought I'd do it right and spend the day in the summer heat sweating and splashing around on water rides. As a disclaimer, this kind of test is admittedly unfair to the fixing spray, which I'm sure is not in any way meant to be a skin umbrella, so I'm going to base my review of that particular product on a different experience. I don't have a good reason to even include it in this post except that it isn't really worth a post all its own. I did wear it to the amusement park, I just couldn't say how much use it was after I got my face wet.
For reference, my pre-water face:
I am way more made-up here than it looks like, which is awesome because who wants to be one of those freaks wearing 8,000 pounds of makeup at the water park?
Does it still count if you actually are that freak but nobody can tell because you used subtle colours and disguised it as a waterproof makeup testing blog post?
Okay then.
Urban Decay "Cannonball" Ultra Waterproof Mascara
I hate waterproof mascara.
Waterproof mascara is bad for your lashes. It's often drying, and it's always harder to remove (which means scrubbing and scraping to get it off), so it gives your lashes a bit of a beat-down every time you use it. Despite the fact that it's damaging, some people insist on using it every day, and because I make no sense I have redirected my annoyance at those people onto the product itself. ALSO, it isn't any cheaper than normal mascara, so for those of us who don't hate our eyelashes and only use it when actually necessary, and considering how quickly mascara
goes bad
, this means only getting a use or two out of it before you have to toss it. Total waste. But of course there are certain times when you
have
to use it, so it's not even like you can just avoid the wastage. Fuck you, waterproof mascara.
Unfortunately, amusement park with water rides is one of those times when you just have no choice. So I did a bit of research on the least useless waterproof mascaras and decided to test out UD's "Cannonball".
Before
My lashes held up pretty well. At initial application they didn't look any better or worse than when I use my everyday mascara, though maybe a bit shorter than I'm used to (even though this photo makes me look and feel like I'm lying, but I swear that's how I felt at the time), so I'm going to take off a point because this stuff includes "lengthening" in its claims, and then give half a point back because of this photo. At the end of the day they looked a bit shabby, but overall they were fine. That said, even after the swamping I took, there was no mascara running down my face even a little bit. Which means it does most of the things it's supposed to do, including the most important thing, which is the most important thing. I'm good with it.
After
I'm hoping not to have to waste the rest of the tube. Summer is a pretty sweaty affair, so maybe there will be days when I'll need it to avoid smearing. We'll see. I still hate waterproof mascara on principle, but I don't hate this product in particular.
Stila Stay All Day Waterproof Liquid Eye Liner
I already use liquid liner on an almost-daily basis, but the one I use isn't waterproof. I keep using it because I really, really love the tip, and the tip on this Stila pen is a pretty close match. It's a little bit slimmer, which is too bad because that means I need to go back over the line again to thicken it up, but that is hardly a deal-breaker.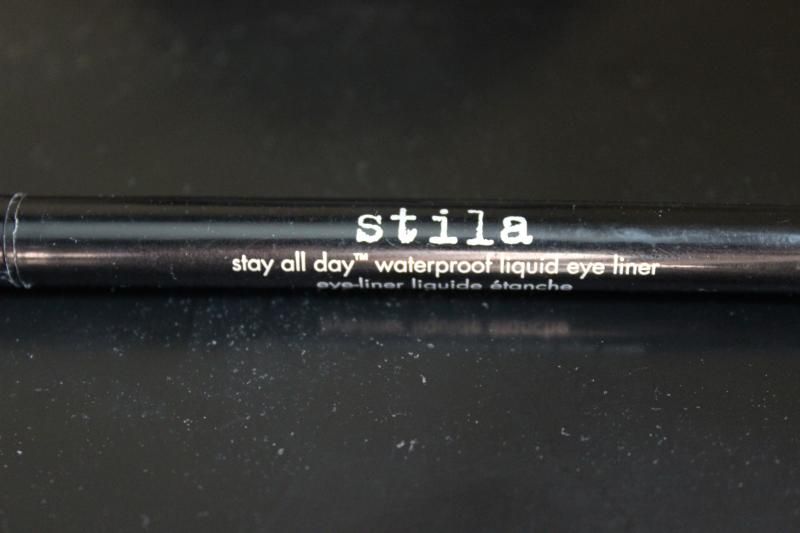 Probably should have taken a photo of the tip, huh?
Before
I'm actually more impressed with this liner than I thought I'd be. The inside corners wore off (almost immediately, actually, wtf), but I need to point this out: even after being splashed directly in the face, passing under a waterfall, being enveloped by a refreshing mist, and taking a full-frontal tidal wave that left me well and truly 100% SOAKED,
the wing of my liner is still there.
And not just still there, but fully intact.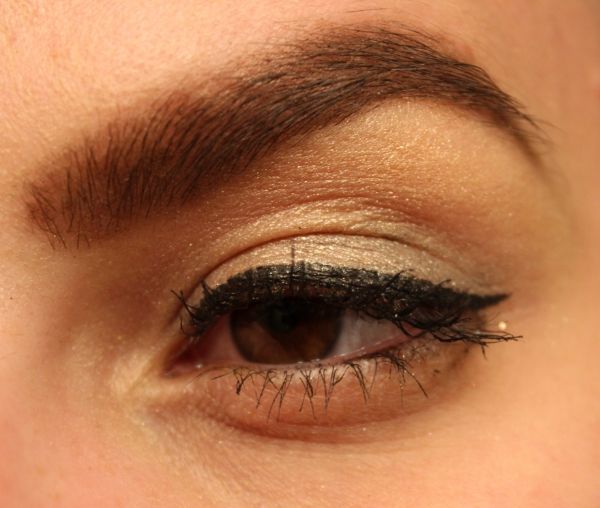 What whaaat?
I'm going to have to assume that my madly unfortunate oily skin/watery eyes combo did for the inner corners before the liner could properly set, because these results suggest that a few tears should not be able to sink this battleship. Full points to you, Stila.
Make Up For Ever Aqua Cream Eyeshadow
I forget why I chose this product over whatever other waterproof shadows there were. I think I put "waterproof" into the Sephora search and this is what came out. I trust MUFE, so I felt confident enough to stop looking and just grab this. I bought two colours but did the test with the beigey-rose shade because I didn't want to look overly made-up.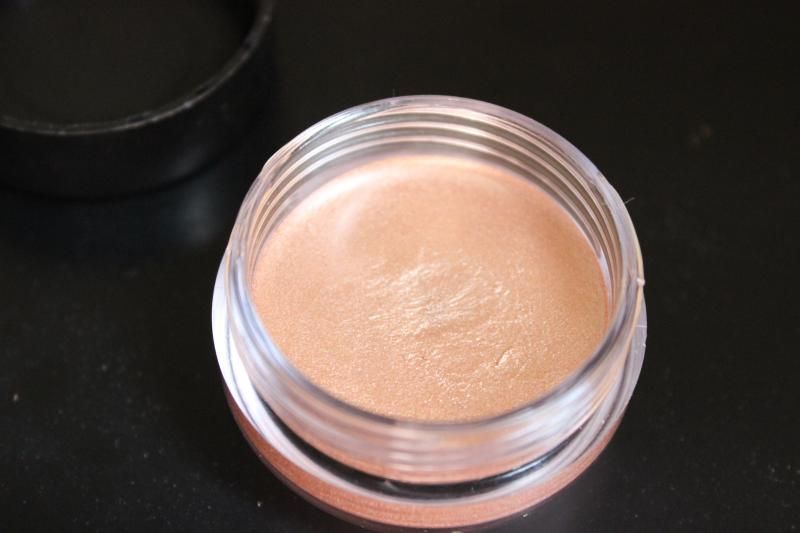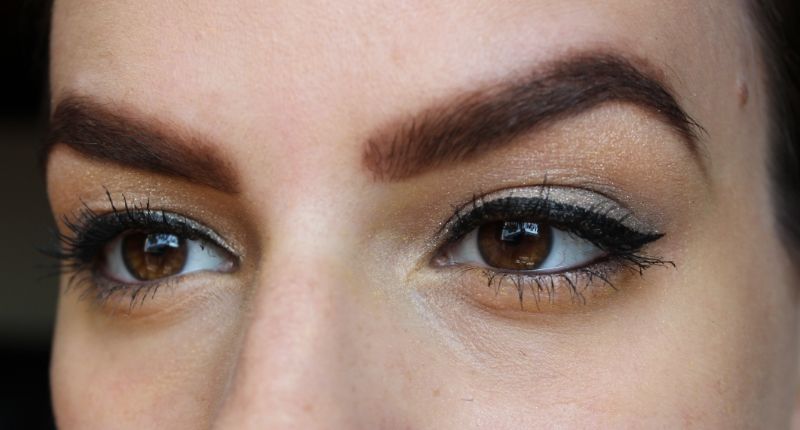 Before
Application was a bit of a bitch, but once I got that sorted I had myself a pretty good base. The shadow lost some of its texture and glow over the course of the day, and it bled down onto the liner a tiny bit, but the overall colour remained. And really, isn't that all that matters?
Red sclera courtesy of chlorine and exhaustion
Make Up For Ever Aqua Matic Eyeshadow Pencil
I also bought two of these pencils because it was 3X the points at Sephora that day. Just try and judge me.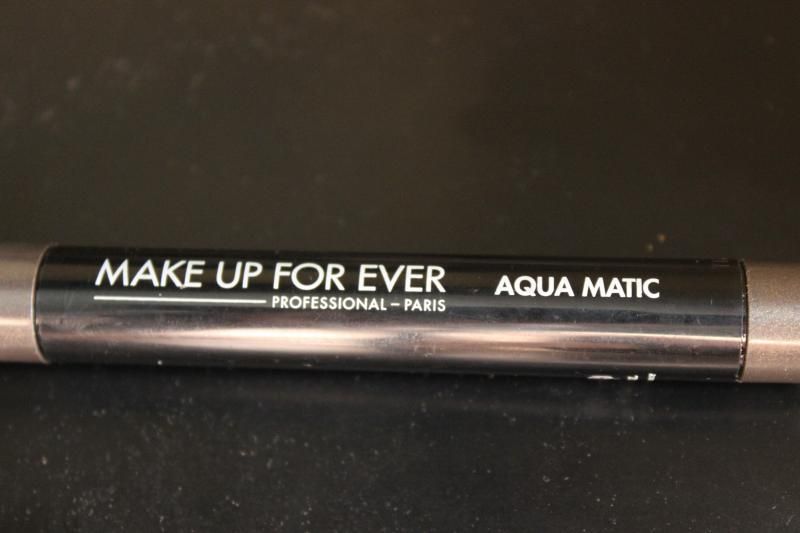 Before
I used this pencil to smudge a bit of smoke around my lashline and outer corner. It fought a hard battle. There is a very faint greyishness going on there, and I'm not totally sure it's enough to call this a success. But it's not really a fail, either.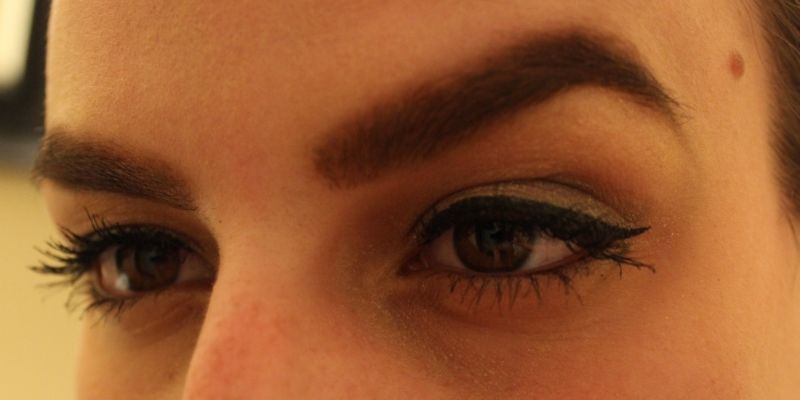 If you squint you can see it
I'm not certain why this product performed so poorly. Maybe it didn't like being layered over another cream shadow and kind of slid off in the wash. I'd have to do other tests with it to be sure.
Tarte Amazonian Clay Waterproof Brow Mousse
Review
here
.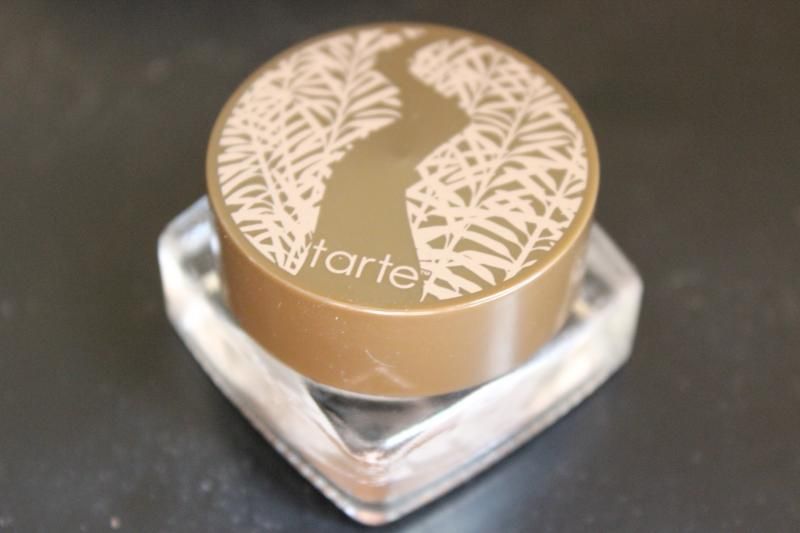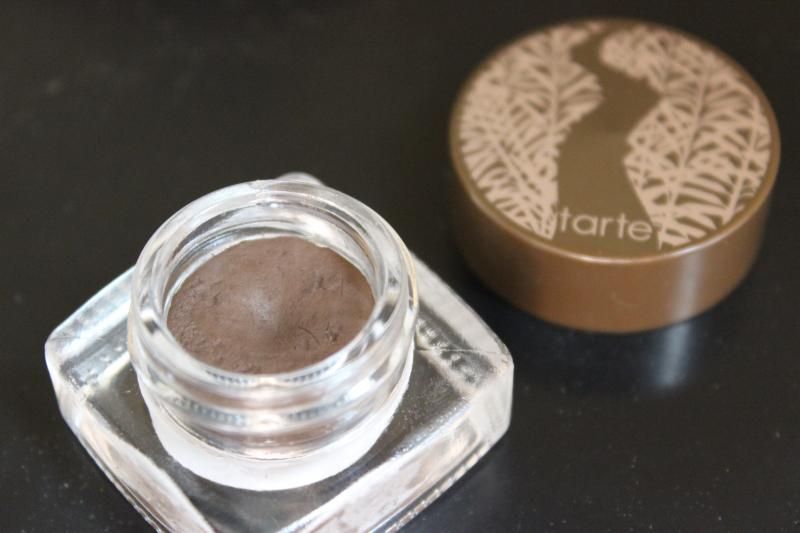 This new packaging is so hideous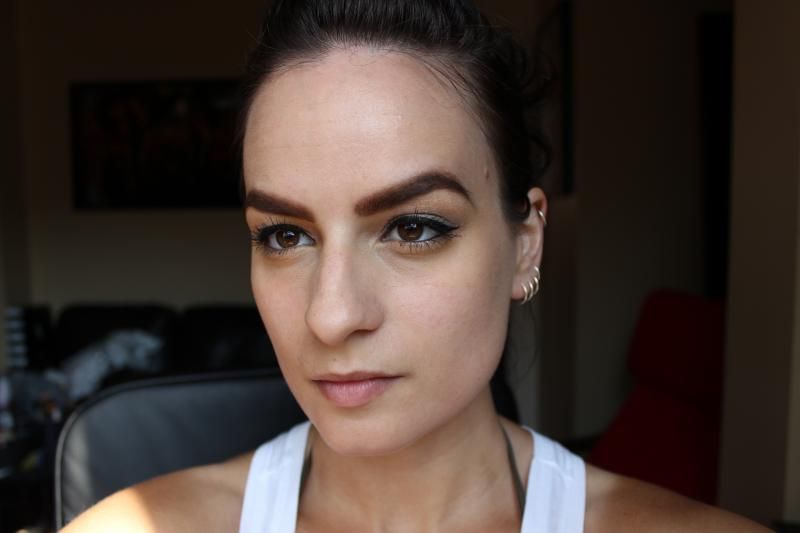 That pile behind me is my Sephora shopping bags FML
I'm going to add to my previous review that this stuff holds up
really
well in water. I wore it to a concert (lawn tickets and of course it rained the entire time) and to the amusement park and my brows still looked fucking fabulous. I'm pretty sure this stuff is what would happen if you compressed Heaven small enough to squeeze it into a tiny glass jar and sell it for $36 a pop.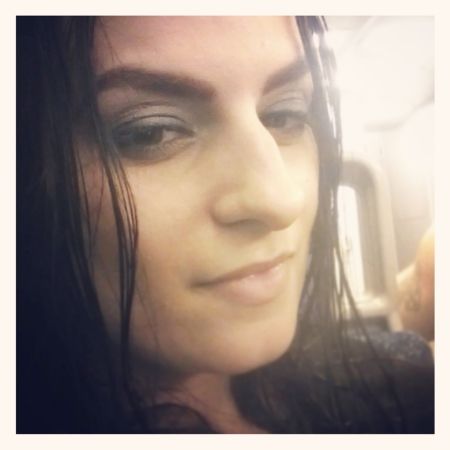 Post concert: This is my smug "look at these fuckin' brows" face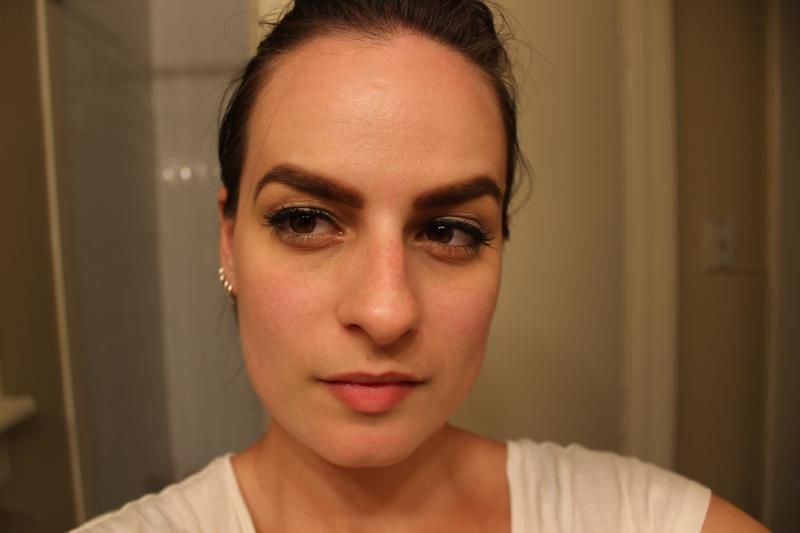 Post water park: The return of smugface
Yeah.
Anastasia Beverly Hills Brow Gel
My brow mousse is amazing, but it doesn't do anything to keep brows in place. The internet says this gel is the shit, and it certainly does a good job under normal circumstances. But I had suspicions about how well it would do in water.
(There is no "Before" shot because there are literally 15 photos of my eyebrows in this post and this product is invisible.)
As it turns out: lol.
You can see things have come a bit unglued there, especially at the end of my brow. The test really wasn't fair, though, I won't hold this against the product. The only real gripe I have with this gel is that I notice some of the colour coming off my brows when I apply it. Which means I have to wait for it to dry and then go back to touch up those little spots where the colour got washed away (some of that patchiness can be seen in the above photo - the pencil I used to fill in the blanks clearly failed the water test), or else apply it in such a way that its efficacy is diminished, which defeats the purpose of using it at all. This is a pain in my ass. But everything else about it is fine so I've been forgiving.
Make Up For Ever "Mist and Fix"
I initially bought this to combat humidity-related makeup melting on hot days. I had noticed my foundation kind of just disappeared by the end of a hot day and I was not thrilled about that. Hot days are almost more important for foundation because I use it to cover redness, which is more pronounced in the heat. I needed something to help keep things in place, and setting powder just wasn't cutting it.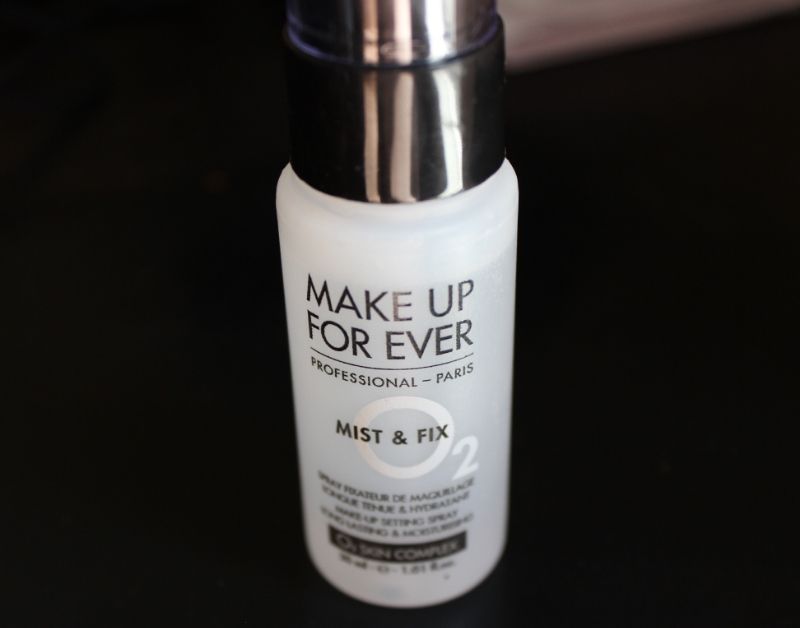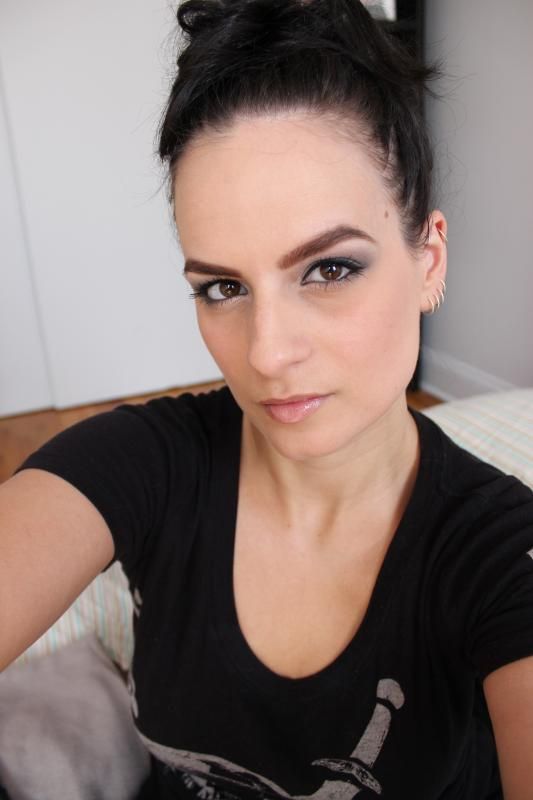 (If anyone wants to know why I bothered taking a photo of an invisible product, it's because I was trying out my new Lorac Pro palette and selfies happened. I embarrass myself.)
I wore it while walking around on really hot, sunny days during my recent vacation, (including Lorac selfie day, above) and it seems to do what it's supposed to do. My face still felt a bit damp and sweaty, enough that I'm pretty sure there would have been smearing if I'd actually touched my face, so I was careful to be hands off and nothing melted off on its own so I guess that's good.
HOWEVER. I have to note that I also switched to a new foundation at the same time as I started using this product, so I don't want to say the spray made the difference all on its own. Actual experimentation and side-by-side comparisons are required here to make the final call. I'll do that one day.

Thoughts in sum:

Tarte and Stila are the clear winners of today's post, with I guess Urban Decay as the runner-up, and that could probably be worded less bitchy but seriously FUCK waterproof mascara. I'm always satisfied with my MUFE products but they never seem to blow me away, so the three products reviewed here are all right on par with that. Also I am apparently a shittier scientist than previously believed as I now have follow-up tests to conduct in order to give actually fair reviews.