This year's Christmas sets are coming out, which is a dangerous time for me. One of the kits I bought last year was Clinique's "Black Honey", which included the Black Honey lipstick, and a nail polish and lip gloss in the Black Honey shade. (This year's Black Honey set also includes a lip liner, which mine did
not
, but I'm hoping I'll get over that). Anyway, I liked that set well enough that I grabbed this year's release as well, "Paired in Purple".
This set includes a chubby stick lip in "Grandest Grape" and a nail polish in "Hot Date", in a mini makeup bag.
Both the polish and the pencil look like dark berry in the Sephora promo image, which is my jam (um... pun not initially intended), so I was a little let down when I got the kit and found they were actually a slightly different shade.
The image from Sephora.com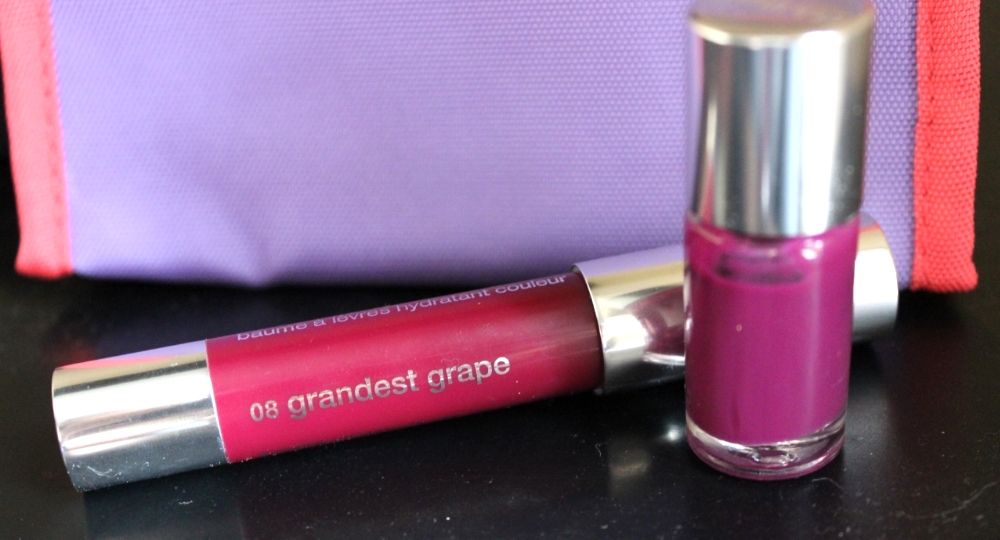 The truth
I'd been expecting a deep wine shade and got more of an African violet vibe from the real thing, which was kind of sucky to begin with but fine because they were still nice, and then the colours changed AGAIN when I put them on. They end up as a fuchsia on me. I don't know what to say about that. I don't know how much of the blame falls on my monitor, but it can't ALL be that. All three versions of the colours are very pretty, but come on.
As for the products themselves, they're fab.
The lipstick: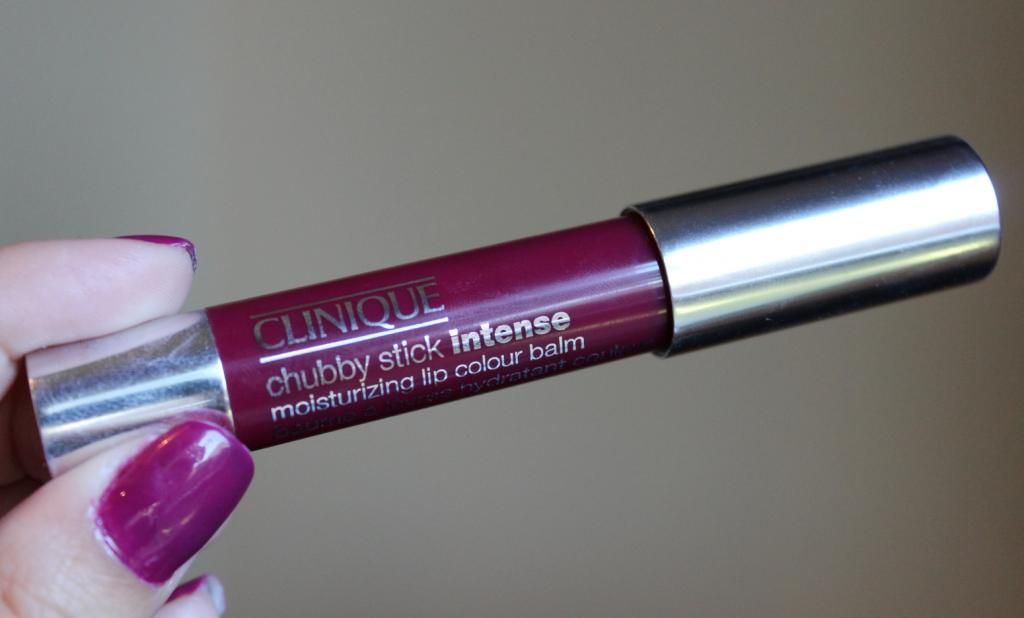 Clinique "Grandest Grape"
The lip colour in the tube is a little less removed from the colour I originally expected (the difference is most obvious in the polish), but it applies somewhat differently and ends up a near match for the polish after all.
Clinique "Grandest Grape"
But that's completely okay, because it's gorgeous and ridiculously easy to wear. It's not as hydrating over the long term as I'd expect (Clinique calls it a "balm"), but the colour applies like a stain and even once it was gone it left a tinge of colour on my lips. I wore this stick three days in a row and could not get tired of it.
The polish:
Clinique "Hot Date"
I was expecting to be pretty disappointed in this polish. The first coat was decidedly pink. I do not own or wear pink nail polish. The second coat turned it into the colour you see here, which is still not quite as purple as the colour in the bottle, and is nowhere near the wine colour I thought I was buying. I'm still not totally thrilled about that, but the colour as it is really grew on me after a few days wearing it.
This colour actually reminds me a LOT of my favourite lipstick, OCC's lip tar in "Strumpet". I paired that with it for a little while the other day and it's a near-perfect match. I painted my nails on a Wednesday morning and didn't see a sngle chip until Monday, and even then it was too small to be noticeable. I typically expect about a week out of my polishes, so I'm pretty satisfied with the longevity here.
Overall, despite my initial disappointment about the colour, I'm very pleased with this set. If it had been less reasonably-priced I might have been more annoyed, but at $23 this is a pretty fair purchase. I'll probably be picking up additional ones as gifts. And definitely more chubby sticks as well.