My absolute favourite holiday is upon us! Naturally, I celebrated with a matching manicure, because that's how I do.
I had the idea to do an accent nail over orange or yellow with a web or bat silhouettes, but then I remembered how much I suck at drawing on my nails and went looking for decals I could use to do this. Instead of decals, I found these nail stickers from Sally Hansen with bats and haunted houses, which were absolutely divine. And as the perfect added bonus, these bitches glow in the dark!
The downside is they apply like shit. I have used nail stickers before without issue, so I know I'm not the problem here. I also wasted a sticker trying to redo one nail to make it perfect, but had the same puckering every time. The strips themselves are just too thick to stretch out smoothly, and even if you can pull them tight enough to smooth out, they aren't sticky enough so they just pop back up again. Not cute.
I am heartbroken over this. I was so excited to find these, and they just won't work properly. The gaps around the edges are like little tunnels for water to get in - they peeled half off my nail and looked like crap after my very first shower, and I had to remove them. Why is it brands that are perfectly capable of making good products always half-ass the specialty items? False eyelashes are thick plastic, costumes are $70 for single-ply polyester. Just because it's "only Halloween" stuff does not mean it's okay for it to be crap. If these stickers had been as good as regular nail wraps, I would have bought out the entire stock and used that shit year round. People like me exist, Sally H. And we hate you today.
Anyway, here is the best I could do. Happily, even though they are puckered and only lasted a day, they looked cute as hell anyway during that time.
Zoya "Storm" and Sally Hansen Salon Effects
You can see that they kind of look shitty at the edges. The thickness of the strips also made it difficult to file off the excess, so they're rough at the tips as well. But they're just so cute, it's hard to be very mad.
Dat glow!
Better luck next year, I hope!
Anyway, I replaced that with this:
Colours are OPI "It's My Prague-ative" and "Black Onyx". The Jack-O-Lantern is Sharpie.
As an added bonus, my Halloween "costume":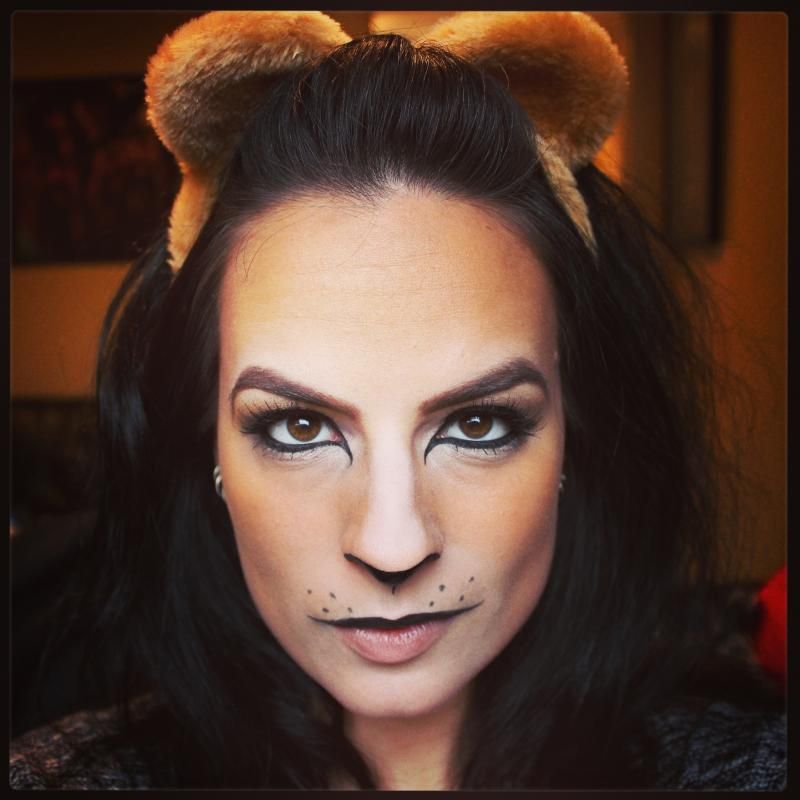 Rawr
I have these ears at home, I wear them sometimes. I actually am not even sure why, but whatever. I do it. So when my costume idea didn't work out, my partner suggested I could be a cat and then he remembered my ears were not the right kind for a cat. Challenge accepted! Lion. (Someone at work pointed out I could also have gone cheetah, so maybe I'll try that another year).
Happy Halloween!