When I started my makeup collection, I was (and still am, for the most part) very careful about what I would buy. I don't want to throw away money on products that suck, and I consider it a waste to buy two of the same thing. This means that even if I'm intrigued by a new product or love a certain shade, I usually won't buy it if I already have something too similar at home.
Despite this, I've amassed a considerable amount of makeup. More than I can really use, if we're being perfectly honest. A lot of it I've bought, but a good chunk is free samples. I don't even always know what to do with them. I have like 7 blushes now, all samples, and blush is a thing I'm not super-comfortable with and barely use, so they kind of just sit there.
Recently I've been making an effort to do something a little different every day, and avoid reaching for something I used the day before. Even so, it's been kind of slow going, simply because of how much there is and all of the different ways it can be combined.
I've been thinking about this because, while it's a fun problem to have, it also kind of makes me feel like an asshole. Who spends that much time and money on face paint?
Apparently I do. I got this with my last order:
Oops.
On one hand I'm excited because free shipping means I can stop adding $12 items that I didn't really want to my orders just to meet the shipping limit. And the early access is nice because I don't have as much worry about things selling out. (Though they don't tell you that the item you're looking at is early access, so
twice
in the short couple of weeks I've been Rouge, I've gone into store looking for items I saw available online only to find out they hadn't been released yet. They really should highlight those items, but whatever).
On the other hand, this is super embarrassing. Sephora isn't the only place I shop. I'd probably have to add another 50% to the amount I've spent there to allow for things I've bought in other places and get at the true cost of my collection.
I might have a problem.
But thanks for the tiny lipstick, Sephora. That helps.
The lipstick is a Luminous Crème Lipstick from Bite, which is good. I've had good experiences with Bite's lip colours and tend to really like them. The packaging is pretty sturdy as well, which I appreciate. (My makeup bag is really hard on my things).
It's an exclusive colour called VIB Rouge, based on I guess the Sephora red that's scattered around their store and website design?
Bite Beauty Rouge Crème Lipstick
It's a bright, blue-based red (the most universally flattering kind, very clever, Sephora). The lipstick applies very creamy and stays that way. I put this on around 1230 and reapplied around 7 with absolutely zero dryness. I probably wouldn't even have had to reapply except that I ate soup for lunch with it on, which caused a bit of fading, mostly in the corners. Overall, I'm impressed.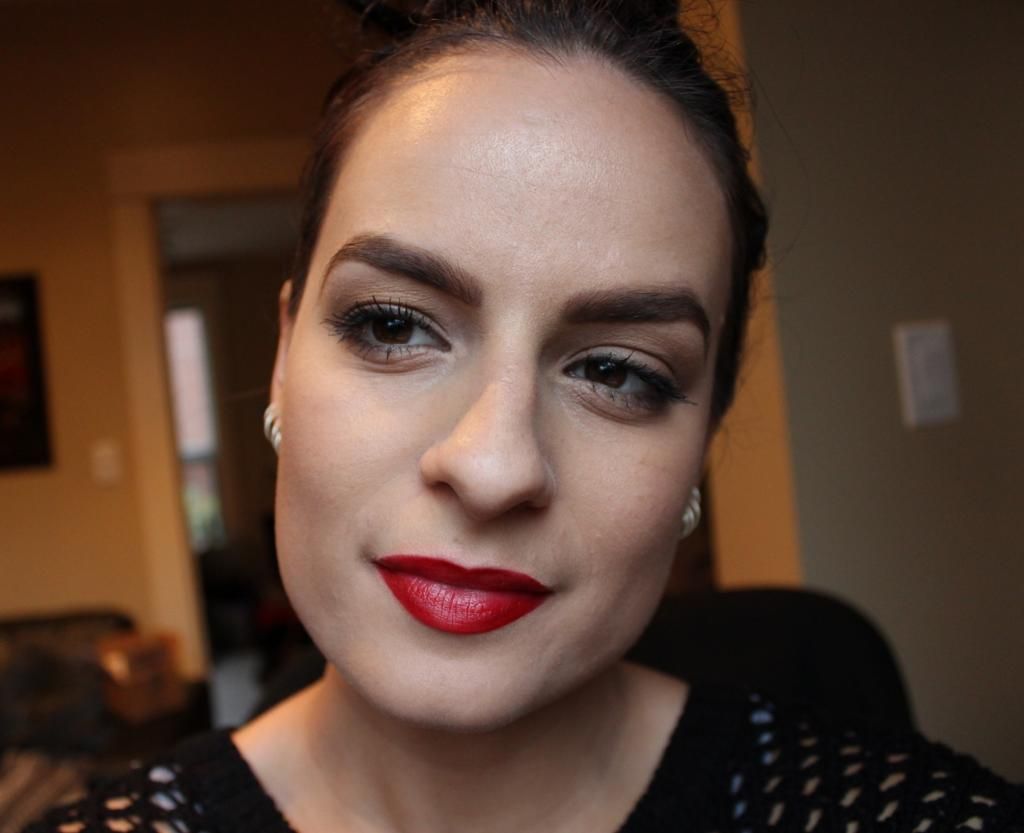 Eating a full pasta dinner with it didn't agree with it quite as well. There's a lot more fading, in the middle as well as the corners. This "after" photo was taken around midnight (yes, we eat late), after reapplying at 7 - about 5 hours. Looks pretty rough. That seems fair to me though. No lipstick should be asked to last through an entire day and a bowl of spaghetti without wearing off.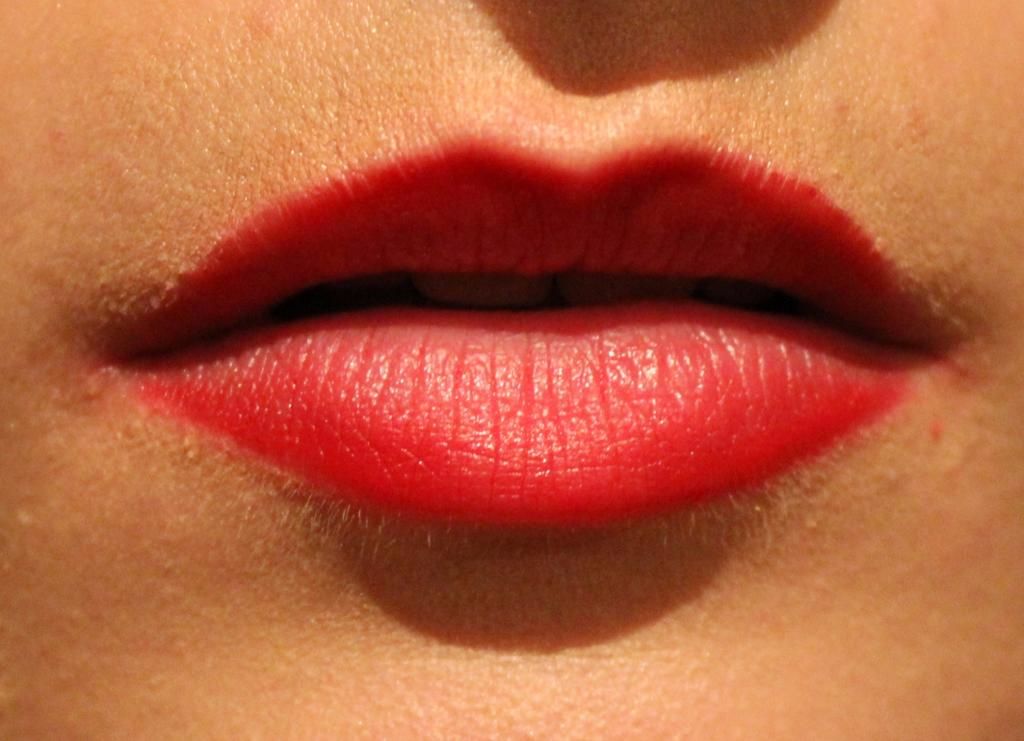 Here is one problem, however. Now normally I try not to complain about things that are free, but this is a somewhat common problem with sample lipsticks - and since the point of sample lipsticks is to sell full-sized lipsticks, I feel it's fair to critique it. (And anyway, is something
really
"free" if you had to spend $1,000 to get it?) I don't know if I'm the only one who hates this, but I do hate it - a lot - so I'm going to point it out. This lipstick does this:
That lipstick is turned all the way down, but it's still sticking out the top of the tube. I cannot describe how obnoxious that is. I was particularly careful with this one because I was taking these photos, which is probably why I managed to keep it undamaged. Other lipsticks I own that have this issue have been accidentally destroyed
just by opening them
. That is not okay. Cosmetics companies, take note: the very first time I mangle a lipstick just by taking off the cap, I make a point of never opening it again, and it certainly doesn't inspire me to go out and buy the full size. I have no patience for that shit.
This lipstick isn't the worst I've ever seen in terms of this problem - I expect that once I've used this enough, the tip will end up below the line, but it is just plain stupid that I should have to do that. That said, I probably
will
use this lipstick because the texture is so nice and the small size makes it good to keep in my bag.
I'm not certain I'll ever buy the full size though, because 1) I have so many lipsticks I'm starting to think I will never use a single one of them all the way up, and 2) many of them are also reds, let's be real, and 3) the full size for this shade (available to VIB Rouge members only) is more expensive than a normal Bite Beauty lipstick. ($32 for 0.13 oz vs $28 for 0.15 oz). Look that over again to be sure you understand what I'm saying:
you can buy a normal red Bite Luminous Crème Lipstick for $4 LESS and you will get MORE of the product.
Seriously, fuck you, Sephora. The fact that I spend a lot on makeup does not mean that I don't care about my money or where it goes. I thought being VIB Rouge meant they'd appreciate your business and give you extra bonuses, but apparently it means they think you're a spendthrift moron who will pay anything for anything. I admit there are probably additional production costs involved in making a single shade in far smaller quantity, but I think it's really lame to pass that on to the consumer you're trying to thank by providing this shade in the first place, and that doesn't explain the smaller amount of product.
Just as an FYI, there is actually a pink shade also exclusive to VIB Rouge that is the normal 0.15 oz full size at the normal $28 price. It is only this particular "Rouge" shade that is offensively priced.