While I was reorganizing my collection, I couldn't help but take a few photos of some of the great stuff I've amassed. Without going into any great depth, here's a little overview of my basic layout.
In my acrylic desktop organizer, I have several lipsticks I've either used recently or want to remind myself to use soon, as well as my collection of Jeffree Star Cosmetics lipsticks (which I actually use mostly for eye liner). There are also several MAC loose pigments and a bottle of Fix + with which to apply them.
The bottom two drawers are things I may need on any given day, but am not guaranteed to use (pulling things out of drawers is a pain), such as a Vera Moda colour switch tin, brow scissors, and a few tubes of sample mascara.
The top drawer is full of ColourPop singles.
Out in front is MAC "Give Me Sun" bronzer, and two Jeffree Star Cosmetics skin frosts. The black cup on the left holds lip liners, liquid eye liners, and eye shadow crayons.
The glass jars hold brushes and eye liner pencils. There is a stack of palettes that won't fit in my train cases (where I keep most of my makeup). From the bottom up are Kat Von D "Mi Vida Loca Remix", a custom Make Up For Ever metal palette, Jeffree Star Cosmetics "Beauty Killer" and Kat Von D "Monarch".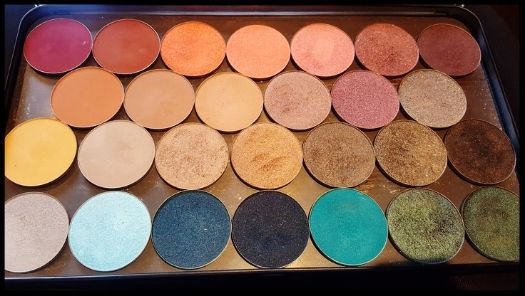 Make Up For Ever custom palette
Anything I might need to use daily, or might want to use on any given day, is kept in a train case under the table. In columns starting from the top left is blushes / bronzers / theBalm "mama" powders / Fresh lip scrub and balms / false lashes and glue / pencil sharpeners, cream shadow, finishing powder / foundation brush / eyeshadow palettes, highlighters, body bronzer / single shadows, gel liners and cream shadows / single shadows and MAC paint pots / concealers / brow products and eye primer / highlighters:
Hidden under the trays in the centre palette section are a custom MAC palette used to hold various things I've
depotted
, the
Urban Decay Electric
palette, and these:
Left: custom MAC / Right: MAC Cool Neutrals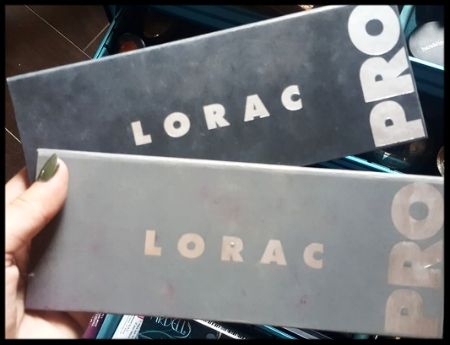 LORAC Pro 1 & 2
There are no lip products in there because it was way too full and I have far too many lipsticks. Those get their own case. In columns from top left are pink liquids / nude solids / pink solids / nude glosses / purples / nude and pink glosses / fashion colours like black and green / red solids / coral and oranges / red liquids / soda pop lip balms:
In my storage cabinet I have backups and duplicates of products already in my collection:
Plus a whole drawer of samples and travel sizes:
Two drawers of nail polish:
Greens, Purples, Reds
Supplies, top and base coats, Yellows, Blues, Silvers, Golds,
Greys, Blacks, Whites, Nudes and Oranges
A drawer for empty makeup bags (used for travel or saved to be given as gifts):
And one with empty palettes waiting to be filled:
For the bonus round, a Paul & Joe eyeshadow that looks exactly like my cat:
Because makeup should be fun, even for kitties.